[vc_row][vc_column reveal_effect="fadeIn" reveal_duration="0.7″ reveal_delay="0.2″][lab_heading title="Coolbreeze Technical Expertise and Capabilities:"]Coolbreeze Service is a unionized air conditioning and refrigeration service provider for commercial and industrial customers located just across the street from Toronto International Airport at 6500 Northwest Drive in Mississauga.[/lab_heading][/vc_column][/vc_row][vc_row][vc_column reveal_effect="fadeIn" reveal_duration="1″ reveal_delay="0.4″][vc_column_text]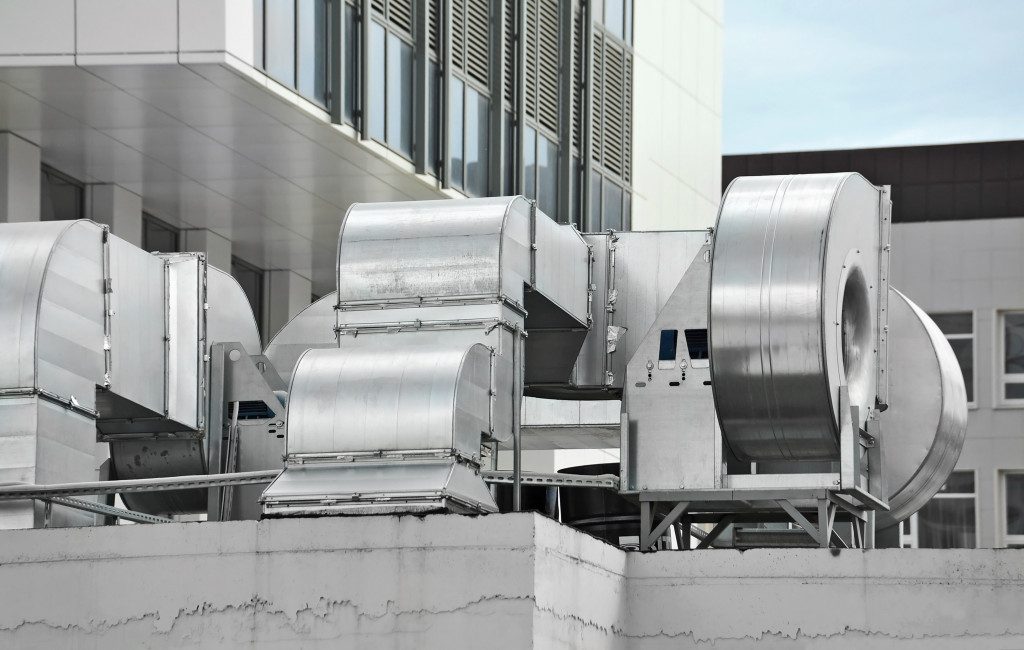 Our technical expertise and capabilities are significant due in large part to our 2 manufacturing and design divisions and highly trained and skilled staff in both management and in the field. HVAC Depot is one division that manufactures and supplies custom ventilation products for any application while Pennair Custom Air Design Ltd., designs and manufactures custom air conditioning and heating systems.
This unique marriage of design and manufacturing expertise enables Coolbreeze to provide the highest level of service for a wide variety of clientele and separates us from most, if not all HVAC service providers.
Some key advantages to choosing Coolbreeze as you HVAC service provider;
Our Design staff includes Mechanical and Structural Engineers, Electrical engineering technologist and PhD in Acoustical Engineering and Design
Our technical staff is directly involved with the manufacture and design of large‐capacity and complex air‐handling units; therefore our technicians that service our clients carry a distinct advantage over our competitors.
Research and development division devoted to improving the design / build process of our custom rooftop applications thereby affording us the unique ability to take what we learn about the design and development of our custom units to our maintenance clientele. In short, we know how equipment is designed and engineered from the ground up. No other HVAC business has this level of expertise completely in‐house.
55,000 sq ft manufacturing floor for custom Coolbreeze air‐handling units.
[/vc_column_text][/vc_column][/vc_row][vc_row][vc_column][vc_column_text]The Green Initiative or push towards conservation in every sector of the marketplace has quickly been adopted by our company. Coolbreeze supplies comprehensive energy audits & energy conservation measures including all rebates & incentives. That is to say, we do not "assist" our clients in "going green", we take the ball and run with it by collecting all of the information required to take advantage of federal and provincial rebate incentive programs and submitting it on your behalf. We have been moving forward rapidly by forming strategic partnerships with innovative manufacturers of green technologies.
Some of our HVAC industry specialties include the following:
Commercial, industrial and high rise condominium HVAC service
Commercial and industrial mechanical contracting
Mechanical, structural and electrical engineering
Research & development
Energy audits
Energy conservation measures including rebate procurement
Design and construction of customized air‐handling systems
Manufacturing of HVAC Systems including but not limited to;

Custom Rooftop Air Handling Systems
Floor by Floor Compartmental Units
Direct Fired Gas Make Up Air Units
Indirect Fired Gas Heating Units
Energy Recover Units
Penthouse Units and Very Large Air Handlers
Field Erected Air Handling Solutions
Pre Fabricated Boiler Plant
Acoustical Panels & Plenums
Acoustically Designed Units
Regain Silencers
Custom Silencers
Positive Seal Dampers
Custom Air Conditioners
Custom Condensers
Evaporative Cooling Solutions
Coolbreeze is a member in good standing with ORAC, Toronto Construction Association, the Better Business Bureau, the TSSA (Toronto Safety Standards Association), HRAI (Heating Refrigeration and Air Conditioning Institute), ASHRAE, ACMO, the Toronto Sheet Metal Association and holds a Master Heat License.[/vc_column_text][/vc_column][/vc_row][vc_row][vc_column][vc_column_text]
Is Preventive Maintenance Right for Your Business?
Compare the cost of regular maintenance vs. emergency break downs or replacement costs
Lost productivity and increased after-hours service costs due to unplanned equipment failures
Lost employee productivity due to sick buildings
Reduced employee productivity due to uncomfortable working conditions
Customer dissatisfaction due to uncomfortable working conditions
Poor ventilation ultimately leads to serious health risks for your staff and customers. Both indoor and outdoor contaminants released into the air lead to high risks for respiratory issues. This of course could be bad for business. Preventative maintenance contracts through commercial HVAC companies can eliminate the risks. With routine cleaning of the ventilation system, the air quality is improved.
[/vc_column_text][/vc_column][/vc_row][vc_row][vc_column][vc_column_text]
Some of the Benefits of a Preventative Maintenance Contract with COOLBREEZE:
Lower rates than non-contract customers.
Top priority in case of an emergency (over non-contract customers).
24/7 emergency response.
A dedicated team from visit to visit. We strive to maintain consistency with your service technicians. This saves time and expense.
While repairs may be necessary, contract customers have a better understanding of the funds needed to maintain their HVAC systems.
[/vc_column_text][/vc_column][/vc_row]